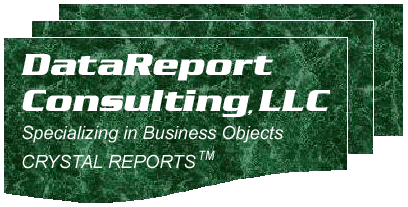 DataReport Consulting LLC
For over ten years DataReport Consulting has serviced numerous clients in a variety of industries, providing custom report design and training on SAP Crystal Reports*. And now also Crystal Dashboard*.
Specializing in SAP CRYSTAL REPORTS, INFO, CRYSTAL DASHBOARD and ENTERPRISE*.

Extensive experience in the Contract Laboratory, Distribution, and Manufacturing industries.

Industries Served: Chemical, Pharmaceutical, Research Lab/Life Sciences, Accounting/Finance, Insurance, Food, Nutritional

Experienced designing reports against MACOLA, SAP BUSINESS ONE, SAGE X3, CHEMPAX, SUNGARD EAS, MICROSOFT DYNAMICS RMS, and various ERP systems*.

Clients include TIFFANY & CO, NATURE'S BOUNTY, FINLANDIA CHEESE, VALIO USA, and CRUM & FORSTER.

The ability to understand relational databases. Experienced in creating SQL Stored Procedures and Views to increase report performance.

Excellent understanding of accounting, sales, manufacturing, inventory, and general business concepts allow the design of versatile and intuitive reports for use across the business spectrum.

Can provide in-house or virtual training on Crystal Reports.
BUSINESS PARTNERS
DataReport is located in the tri-state New York City area, though available to clients anywhere within the U.S.A.
If you are interested in how DataReport Consulting can service your Crystal Reports and related reporting needs, please send an e-mail to:
contact@datareportconsulting.com
*: Trademark of their respective owners